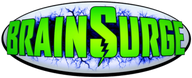 Welcome to Brain Surge Wiki

Edit
BrainSurge is a children's game show aired on Nickelodeon hosted by Jeff Sutphen. The show taped its first season in February 2009, and debuted on September 28, 2009. The show's format was adapted from the Tokyo Broadcasting System game show Brain Survivor.
The network announced in mid-February 2010 that the program was renewed for a second 40-episode season without any changes in hosts or format. The new season premiered sometime early in the third quarter of 2010.
The third & final season had families compete.
Brain Surge Info:
Edit
BrainSuge's challenges are designed to test the memory and comprehension skills of its contestants.
Brain Surge Stuff:
Edit
http://www.nick.com/games/brain-surge-brain-training.html Brain Training
http://www.nick.com/games/brainsurge-brain-training-2.html Brain Training 2
http://www.nick.com/games/brainsurge-brain-training-3.html Brain Training 3
Latest activity
Edit
Ad blocker interference detected!
Wikia is a free-to-use site that makes money from advertising. We have a modified experience for viewers using ad blockers

Wikia is not accessible if you've made further modifications. Remove the custom ad blocker rule(s) and the page will load as expected.